Click on the photos to make them bigger and open a gallery.
---
RIP John Pilgrim  7 April 1933 – 18 December 2020
The Guardian – John Pilgrim Obituary
Ian Aberdeen writes: Just heard this week that we've lost a former regular from years back, so have rummaged for photos among Jerry's stash & found these (also featuring Sheila Woodhead). John Pilgrim was a muso & a former member of the Vipers back in the 50s. Quite a few were in the band at various times, including Alexis Korner, along with Hank Marvin, Jet Harris & Tony Meehan before they formed the Shadows. Also Mike Pratt, who wrote hits for Tommy Steele & later became Randall of Randall & Hopkirk (deceased). Wally Whyton as well, who I mostly remember for his radio folk programme (& being on Five o' clock Club). They were produced by George Martin before his Beatles days & John Lennon covered one of their songs (Maggie Mae) with the Quarrymen. He was once seen, never forgotten (I'll politely leave it at that!).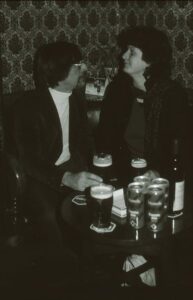 ---
Jerry Mellonie – The Lion And Albert
Jeremy Mellonie – The Lion and Albert
Click on the link to open a video and hear a proper Yorkshire tale told in the style of Chaucer!
In 1987 Channel 4 television commissioned John Floyd (aka The Third Earl) to make a television programme about folk music emanating from West Yorkshire and Sowerby Bridge in particular.
This particular excerpt is of the late Jerry Mellonie performing the Stanley Holloway monologue The Lion and Albert in English as it would have been spoken during the period 1342-1400 (Chaucer).
The correct version is printed below. Jerry had studded Chaucer at his public school and delighted in performing this monologue whether sober or not. Oft times the Puzzle Hall Inn in Sowerby Bridge would be in fits as he gave this exceptional performance. Here of course Jerry is sober, so whilst it might not be his finest and funniest rendition, it is nevertheless a unique piece of film.
THE LION AND ALBERT
There's a famous seaside place called Blackpool, That's noted for fresh air and fun,
And Mr. and Mrs. Ramsbottom , Went there with young Albert, their son.
A grand little lad was young Albert, All dressed in his best;quite a swell,
With a stick with an 'orse's 'ead 'andle, The finest that Woolworth's could sell.
They didn't think much to the Ocean: The waves, they was fiddlin' and small,
There was no wrecks and nobody drownded, Fact, nothing to laugh at at all.
So, seeking for further amusement, They paid and went into the Zoo,
Where they'd Lions and Tigers and Camels, And old ale and sandwiches too.
There were one great big Lion called Wallace; His nose were all covered with scars,
He lay in a somnolent posture, With the side of his face on the bars.
Now Albert had heard about Lions, How they was ferocious and wild,
To see Wallace lying so peaceful, Well, it didn't seem right to the child.
So straightway the brave little feller, Not showing a morsel of fear,
Took his stick with its 'orses 'ead 'andle And pushed it in Wallace's ear.
You could see that the Lion didn't like it, For giving a kind of a roll,
He pulled Albert inside the cage with 'im, And swallowed the little lad 'ole.
Then Pa, who had seen the occurrence, And didn't know what to do next,
Said " Mother! Yon Lion's 'et Albert," And Mother said " Well, I am vexed!"
Then Mr. and Mrs. Rarnsbottom, Quite rightly, when all's said and done,
Complained to the Animal Keeper, That the Lion had eaten their son.
The keeper was quite nice about it; He said " What a nasty mishap.
Are you sure that it's your boy he's eaten ? " Pa said "Am I sure ? There's his cap! "
The manager had to be sent for. He came and he said " What's to do ? "
Pa said " Yon Lion's 'et Albert, And 'im in his Sunday clothes, too."
Then Mother said, " Right's right, young feller; I think it's a shame and a sin,
For a lion to go and eat Albert, And after we've paid to come in."
Then off they went to the Police Station, In front of the Magistrate chap;
They told 'im what happened to Albert, And proved it by showing his cap.
The manager wanted no trouble, He took out his purse right away,
Saying " How much to settle the matter ? " And Pa said " What do you usually pay?"
But Mother had turned a bit awkward, When she thought where her Albert had gone.
She said " No ! someone's got to be summonsed", So that was decided upon.
The Magistrate gave his opinion That no one was really to blame,
And he said that he hoped the Ramsbottoms , Would have further sons to their name.
At that Mother got proper blazing, " And thank you, sir, kindly," said she.
" What, waste all our lives raising children, To feed ruddy Lions? Not me!"